In this test, you will be presented with three samples: A, B and X. A and B are consistent, one lossless and one lossy. Each trial, X is randomly set to either A or B. You have to work out which one it is.
Start one of the samples by pressing the relevant button: A to start sample A playing, B to start B, and so on. Once the track is playing, you can switch between the samples by pressing A, B, or X.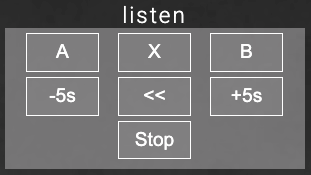 You can seek through the tracks using the -5s, << (rewind), and +5s buttons.
Once you think you know whether sample X is matches sample A or B, enter your choice by pressing X is A or X is B.

Then enter your choice by pressing the Next button.

Your progress through trials and tracks is shown at the bottom.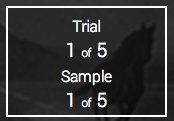 All buttons also have hotkeys. For QWERTY and DVORAK users, you should orient your hand left hand with your little finger on the A key, and your right hand with your index finger on the 8 key
| Action | Hotkeys |
| --- | --- |
| Play or switch to sample A | A |
| Play or switch to sample X | X, S, or O |
| Play or switch to sample B | B, D, or E |
| Choose that X is A | Z or ; |
| Choose that X is B | C or J |
| Seek back 5 seconds | 8 |
| Rewind | 9 |
| Seek forward 5 seconds | 0 |
| Enter your response | Enter |